Please don't squeeze the Whipple
My next visit to the bathroom won't be quite the same...
Mr. Whipple has passed away.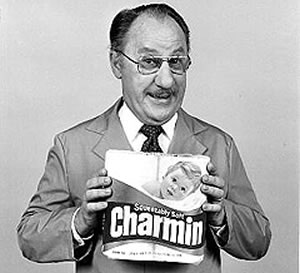 If you're of a certain age, you can't help but recall those incessant commercials for Charmin toilet paper from the mid-1960s through the late '80s, in which bespectacled grocer George Whipple uttered his trademark catchphrase:
"Please don't squeeze the Charmin!"
Of course, once Mr. Whipple wrapped his clutching fingers around a package of that delectably pillowy bathroom tissue, he could never help getting his own squeeze on.
The actor behind the Whipple,
Dick Wilson
, died this morning at age 91. The British-born Riccardo DiGuglielmo grew up in Canada, and moved to the U.S. after serving in the Canadian Air Force during World War II. As an actor, he used his mother's maiden name to avoid being typecast in ethnic Italian roles.
Instead, he was typecast as a fussy merchant with a fetish for groping toilet paper. I suppose that's better, in some ways.
Wilson played numerous non-Whipple roles during his seven-decade acting career. He was a frequent guest star on
Bewitched
and
Hogan's Heroes
, and appeared in dozens of other sitcoms and TV dramas over the years. Wilson even turned up in a Cheech and Chong movie. (Rumors that he rolled a doobie out of Charmin proved to be erroneous.)
Although Procter & Gamble put Mr. Whipple out to pasture in 1985 (ads featuring Whipple continued in repeats for a few years thereafter), Wilson made a brief return to the character in 1999, when a retired Mr. Whipple returned to the supermarket to sell an upgraded version of Charmin.
Dick Wilson, I'm dedicating my next flush to you.
Labels: Celebritiana, Dead People Got No Reason to Live, Reminiscing, Ripped From the Headlines, Teleholics Anonymous, Wonderful World of Advertising