Queen of Jeopardy!
Hearty congratulations to
Celeste DiNucci
, winner of this year's
Jeopardy!
Tournament of Champions.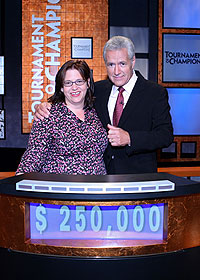 In one of the most unpredictable tournaments in
Jeopardy!
history, Celeste emerged triumphant, edging out a narrow victory over crafty Canadian Doug Hicton in the finals. Celeste garnered $250,000 and the adoration of millions for her stellar efforts.
Despite my nearly 20 years of association with
Jeopardy!
, and the fact that I've been privileged to meet — and in a few cases, compete against — some of the best players ever to pick up a signaling device, I've never been any great shakes at evaluating competitor talent, or at forecasting tournament outcomes. This year's Tournament of Champions was no different.
Two weeks ago, I wouldn't have figured any of the three finalists to make it out of the first round. That's not intended as an insult to them, in any way — I just thought there were several stronger players in the field. But Celeste and Doug, in particular, showed themselves worthy to stand among the game's elite. Celeste is an impressive and personable grand champion, and only the third woman in
Jeopardy!
history to win a Tournament of Champions.
Celeste came within a hairsbreadth of missing the finals altogether. In her semifinal match, she and Christian Haines — one of the pre-tournament favorites — finished the game tied at $15,401. Host Alex Trebek announced a tie-breaking category, "Child's Play," then read the final answer: "A Longfellow poem and a Lillian Hellman play about a girls' boarding school share this timely title." Celeste rang in first, and delivered the correct question: "What is
The Children's Hour
?"
Way to go, Celeste!
Labels: Hero of the Day, Jeopardy, Teleholics Anonymous