The Devil made them do it
You remember the Tampa Bay Devil Rays? First in your hearts, last in the American League East?
Well, there ain't no Devil in Tampa Bay any more.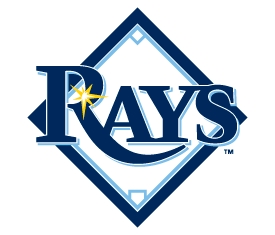 In a dramatic triumph of superficiality over substance, the owners of the northern Florida baseball franchise have
changed the team's name from Devil Rays to simply Rays
.
Apparently, someone in the Tampa Bay front office determined that pesky "Devil" was the reason for the club's perpetual lack of success. (The Rays have never lost fewer than 90 games in a 162-game season, have never reached the playoffs, and have finished out of last place in their division only once — in 2004, when they came in fourth instead of their usual fifth.)
Leaving the stench of Satanic sulfur in their wake, the team, which plays its home games in St. Peterburg's Tropicana Field (known affectionately to Rays fans as "the Trop," and less affectionately to the design-conscious as "the Juice Box"), will debut in 2008 with a truncated title intended to reflect the golden beams that daily bathe the Sunshine State, plus a new color scheme (navy blue and light blue), logo, and uniforms.
Rays principal owner Stuart Sternberg must have forgotten that the team already went through one previous "let's change our fortunes by changing our costumes" makeover in its brief decade-long existence. Back in 2001, Tampa Bay ditched its rainbow-hued uniform logo in favor of a more sedate green, and swapped the "Devil Rays" brand for "Rays," albeit with the namesake manta ray (aka "devilfish") still incorporated into the design. That 2001 club lost 100 games for the first time in franchise history.
Maybe it wasn't the unis, after all.
It's high time that the decision-makers at the Juice Box figured out that the key to winning ballgames isn't fabric swatches and focus groups — it's signing some players who can actually, you know,
play
. Dressing the same tired roster of minor league rejects in fancy new clothes makes as much sense as painting lipstick on a pig.
Or, for that matter, on a Devil Ray.
Labels: Ripped From the Headlines, Sports Bar