The pact is: To avenge!
Today's Comic Art Friday is dedicated to comic art legend
Marie Severin
, one of the few women to make a lasting mark in the industry during comics' Silver Age. An acclaimed colorist for EC Comics in the 1950s, and later an illustrator, art director, and character designer for Marvel Comics, Marie was inducted into the Will Eisner Comics Hall of Fame in 2001.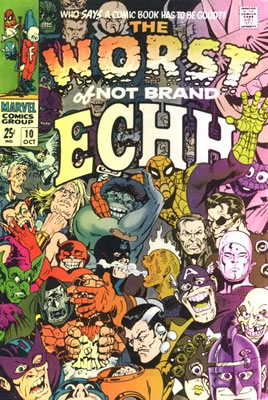 Unfortunately, Marie suffered a stroke recently, and is now recovering in a rehabilitative facility. I wish her a swift and successful return to health. She's one of the great ones.
I'm sure that, given the nature of obsessive fandom, there must be people (read: adult males in an arrested state of emotional adolescence) who are even bigger fans of the film
Heavy Metal
than I am. (I'll identify one for you at the conclusion of this post.)
However, so far as I'm aware, I'm the only comic art collector with an entire gallery of commissioned art featuring the movie's most memorable character — the mysterious, silent swordswoman known as Taarna the Tarakian.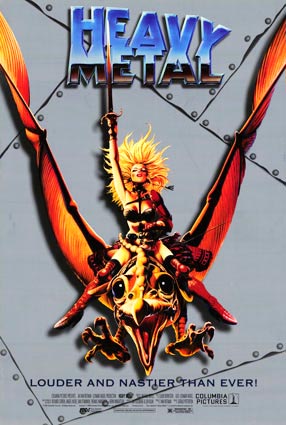 Why Taarna? I can't answer that question definitively, any more than I can explain why I prefer vanilla to chocolate. Part of the reason is my admiration for
Heavy Metal
itself, which I believe is one of the great neglected classics of animated cinema, made all the more remarkable by the fact that the film was made on a modest budget under an unrealistically tight schedule. The list of talents whose work is represented in the movie reads like an international Who's Who of fantasy art legends: Jean "Moebius" Giraud, Richard Corben, Berni Wrightson, Neal Adams, Howard Chaykin, Juan Gimenez, Angus McKie, Chris Achilleos, and Mike Ploog, just to name a few.
Another reason is Taarna herself. I'm a sucker for strong female characters (as regular Comic Art Friday readers will affirm), and Taarna is as strong — and as female — as they come. Plus, she's a terrific visual. Designed by Howard Chaykin, a comic book creator renowned for his striking depictions of women, Taarna has influenced the look of dozens of female characters in the quarter-century since she first appeared.
The Taarna artworks we're featuring today were both created by artists associated with other noteworthy female characters. Earlier this year, I was offered the opportunity to commission
Mel Rubi
, a veteran comic artist most familiar for his work on Dynamite Entertainment's
Red Sonja
series. Given Mel's intimate familiarity with sword-wielding woman warriors, I knew he'd deliver a fantastic Taarna... and he did.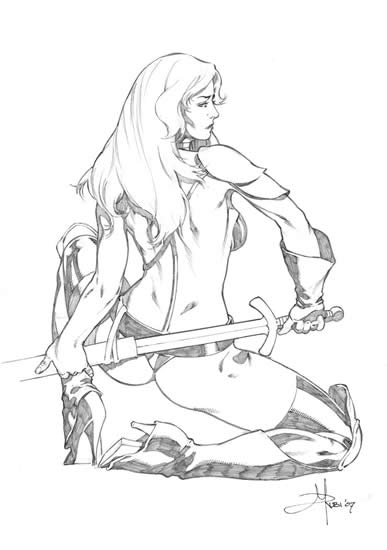 Aside from the beauty and clarity of his linework here, I was especially delighted that Mel chose a unique pose for his drawing. It's eye-catching, it's dramatic, and most importantly, it's completely in character. According to Mel's art representative,
Ruben Azcona at Comic Book Art Gallery
, this was one of the first commission projects that Mel accepted. I hope he enjoyed it, because I have a feeling that he'll be asked to do many more.
Our second Taarna artwork roars forth from the pen of
Matt Martin
, who has drawn numerous covers for the
Lady Death
series published by Avatar Press. Like Mel Rubi, Matt has built his considerable reputation on his facility with dramatic female figures. He puts that skill to excellent use in this cover-quality illustration.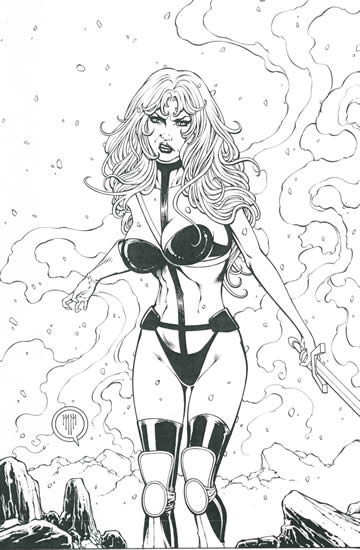 My favorite feature of Matt's Taarna is the powerful emotion with which he interprets the character. In her segment of
Heavy Metal
, Taarna remains stoic, never speaking and rarely revealing any inner feelings. Here, Matt strips away her implacable veneer and shows us Taarna's wrath-filled heart of vengeance. That curled lip, those flashing eyes... priceless.
If you're interested in a more detailed presentation of this quintessential heroine, check out superfan Adam W. Smith's incredible tribute site,
Celebrating Taarna
. Adam provides extensive background details about Taarna and her development, as well as his personal musings about what the character means to him.
Remember: October is
National Breast Cancer Awareness Month
. To find a cure: This is the pact.
And that's your Comic Art Friday.
Labels: Breast Cancer Awareness, Cinemania, Comic Art Friday