Wonder Woman Day!
In case you missed the memo,
Sunday, October 29 is Wonder Woman Day
.
All I can say is, it's about time.
In recognition of
National Domestic Violence Awareness Month
, Excalibur Comics in Portland, Oregon is hosting a celebration of everyone's favorite Amazon this Sunday. The highlight of Wonder Woman Day will be the auction of a dazzling array of original Wonder Woman art, donated by an all-star lineup of comic artists, including current All-Star Wonder Woman penciler Terry Dodson (who'll be on-site, signing autographs) and award-winning cover artist Adam Hughes. Proceeds of the event will benefit two women's shelters in the Portland area:
Bradley-Angle House
and
Raphael House
.
Since the SSTOL crew can't be on hand to celebrate Wonder Woman Day in person, we thought it appropriate to stage our own Wonder Woman Day in the Comic Art Friday tradition. I've chosen several of my favorite pieces from my Wonder Woman gallery. Some have appeared on Comic Art Friday previously, others will be making their debut here. All are worth a look.
And if these images inspire you to make a donation to a women's shelter in your local community, so much the better.
Here's one you've not seen before: A gorgeous, classically styled pinup by Mitch Foust.
If I recall correctly, this was the first piece of Mitch's art I obtained. I've added several more examples since. I'm a fan of Mitch's smooth, gentle pencil line, and his naturalistic sense of anatomy. His woman always look like real human beings, rather than escapees from some warped male fantasy.
One of the most visually arresting images in my entire art collection is this collaboration between pencil artist Michael Jason Paz and the powerful pen of inker Geof Isherwood.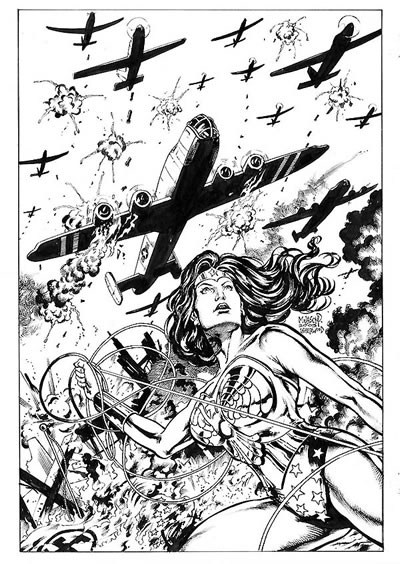 As stunning as this piece was in its original pencils, Geof's inking elevated it to an entirely different level. I probably get more compliments on this work than any other single piece that I own.
Here's another example of Geof's brilliant inking, this time over Brazilian superstar Al Rio.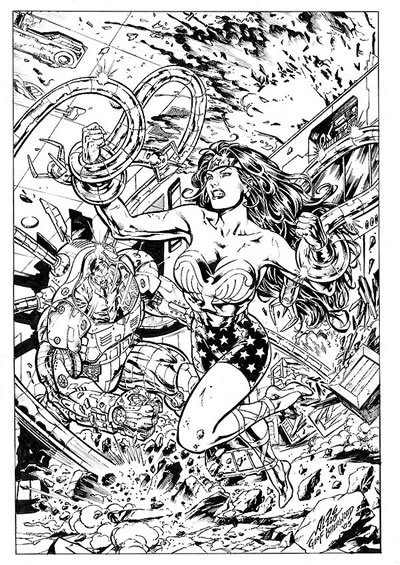 Al's original pencils were the first Wonder Woman art I personally commissioned. I fall in love anew with this piece every time I look at it. Geof's inking, once again, brought an already masterful artwork to dizzying new heights.
By the way, if you like Al Rio's style, I learned this morning from Al's art representative Terry Maltos that Al has just been hired by Marvel Comics to take over the penciling duties on one of my favorite current series,
Heroes for Hire
. It's a splendid choice by Marvel; Al's going to deliver some knockout art for that title. So be sure to check it out.
In case you were curious to see what vision of Wonder Woman Geof Isherwood might create if left to his own devices, the piece you're about to see incorporates both Geof's penciling and inking talents.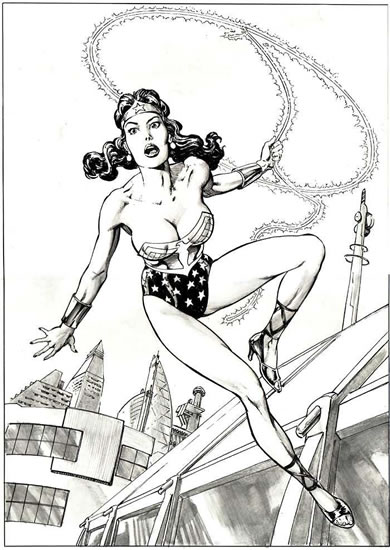 I don't believe there's an artist in the business today with a better understanding of figure anatomy, or of light and shadow, than Isherwood.
Here's another piece that I don't believe has appeared in this space before. Nicely rendered in the contemporary style, it's the work of Brazilian artist Diego Maia.
This is one of the special treasures in my Wonder Woman gallery. It's Peter Krause's take on what the mighty Diana might look like, taking a relaxing day off.
Finally, the great Darryl Banks delivers a smashing pinup that recalls the influence of Wonder Woman's original artist, Harry G. Peter, while adding some signature Banks style.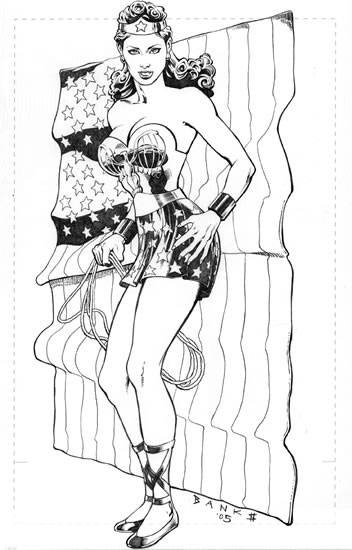 Now I'd call that a Wonder Woman Day worthy of the name,
eh wot
?
If you still haven't got your fill of the Amazing Amazon, you can view the rest of my Wonder Woman art at
my Comic Art Fans gallery
. While you're at CAF, I highly recommend a stroll through the online galleries of
the world's premier Wonder Woman art collector, Joel Thingvall
. Joel owns more Wonder Woman art than any human alive. His collection is nothing short of spectacular; my own pales into insignificance by comparison. You could literally spend hours admiring the work of hundreds — perhaps thousands; I'm not sure even Joel knows — of artists, all paying their respects to the Mother of All Superheroines. If you stop by, tell Joel I sent you.
And that's your Comic Art Friday.
Labels: Comic Art Friday