Out of the inkwell, part two
Today's post comes your way courtesy of
the Indian subcontinent
, without whose fine ink products the comic art displayed herein would not have been possible. (Okay, so
India ink
doesn't really come from India. Just play along. It's Friday.)
Previously on Comic Art Friday
, we took a before-and-after look at a pair of pencil drawings given fresh new vibrance by the deftly wielded pens and brushes of ace inker
Bob "Jordan" Almond
(so dubbed because beneath his colorful candy coating, he's one tough nut — plus he's, like, the Michael Jordan of embellishers). The heroines — specifically Mantis and her fellow Avenger, the Scarlet Witch, held court in last week's installment. This week, the heroes take center stage.
Presented first is this pencil sketch of my superhero idol,
the Black Panther
, created earlier this year at WonderCon by the charming and talented
Ron Lim
.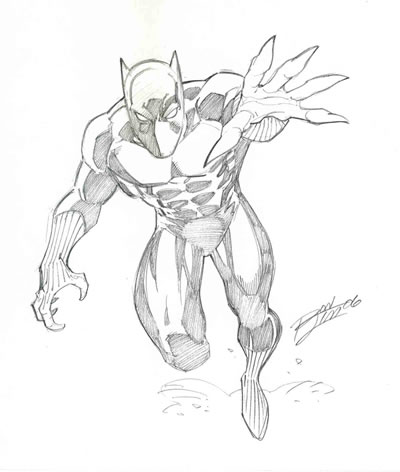 Bob Almond was the first and only inker I considered to finish this piece. Bob enjoys a special connection to the Panther, having been one-third of arguably the greatest creative team (along with writer
Christopher J. Priest
and pencil artist
Sal Velluto
) ever to chronicle T'Challa's adventures. (From a nostalgic perspective, I'm also partial to the trio who worked on an earlier
Black Panther
series back in the '70s — writer Don McGregor, penciler Billy Graham, and inker Bob McLeod. However, the Priest/Sal/Bob triumvirate took the mythos of the Panther to even nobler heights, and over a far longer period of time, during the late 1990s and early 2000s.) During Bob's run on
Black Panther
, he twice won
the Squiddy Award
as the best inker in comics, as voted by fans.
I left it to Bob to come up with an interesting background to enhance Ron Lim's unadorned Panther. Using a striking blend of ink wash techniques and artistic effects, Bob transformed a simple figure sketch into a completed artwork with amazing depth and realism.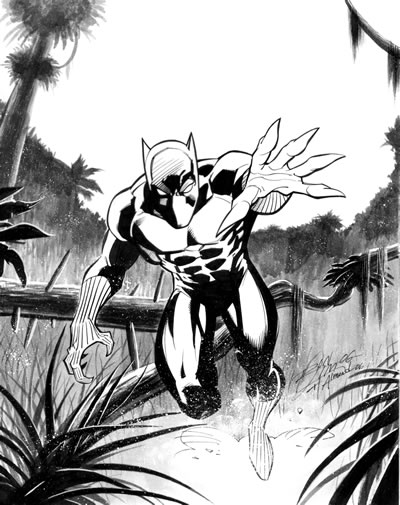 Comic Art Friday regulars will recognize this next drawing as being from my semi-legendary Common Elements series, in which I commission artists to team two otherwise unrelated superheroes who share some — wait for it — common element. In this instance, '80s stalwart
Ron Wilson
— best known for his lengthy run as resident penciler on
Marvel Two-In-One
, starring the ever-lovin' blue-eyed Thing — was asked to match comics' two most famous blind heroes, Daredevil and Doctor Mid-Nite. It's fair to say that Ron slammed this assignment out of the park.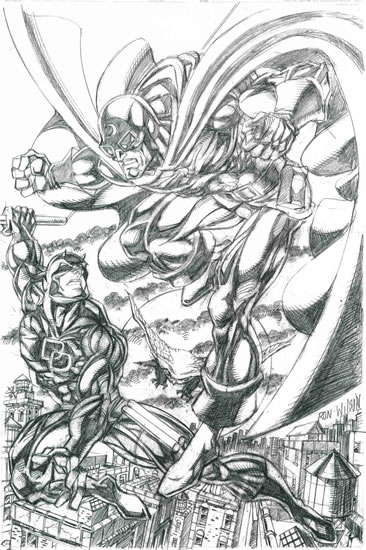 You can see by the intricate level of detail in Ron's creation, as well as the original artist's distinctive style, that Bob had his work cut out for him inking this piece. Adding to the challenge was the fact that Bob had never before inked an example of Ron's work, Mr. Wilson having pretty much vanished from the comics scene by the time Mr. Almond arrived therein.
But then, I don't believe Bob ever saw an inking challenge to which he could not rise. Witness the finished product...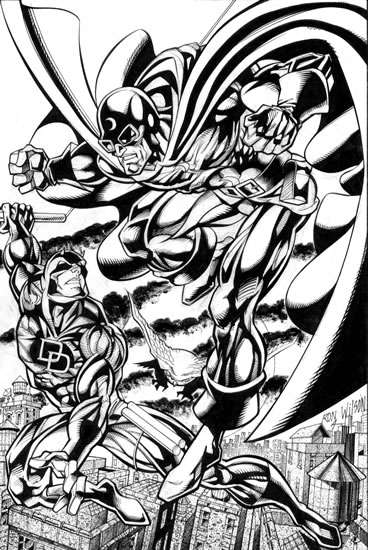 Go ahead. Stand. Applaud. Cheer. Stomp. Hug your neighbor. It's okay. Really. I totally understand.
And that, you crazy kids, is your Comic Art Friday.
Labels: Comic Art Friday