Good guys wear black (ink), the sequel
Today's Comic Art Friday is sponsored by
the Sonoma County Fair
, which enters its second and final weekend today. The girls and I made our annual Thursday evening fair-crawl a week ago yesterday and had a blast, then KM the equestrian fanatic took Wednesday afternoon off and hung out at the racetrack, watching the ponies run. Grand fun.
Last time on Comic Art Friday
, we took a gander at two artworks recently finished in ink by the redoubtable
Bob Almond
, one of the truly good guys in the comic art field. Today I've got a couple more of Bob's recent inking efforts to showcase — pieces that, like the previous pair we examined, were also drawn originally by artists I'd categorize as good guys.
This muscular two-shot was penciled on commission at WonderCon earlier this year by Ron Lim, best known for his work on Marvel Comics'
Captain America
and
Silver Surfer
. Here we find Cap dashing into battle, accompanied by his imitator, one-time antagonist, and occasional ally, the USAgent.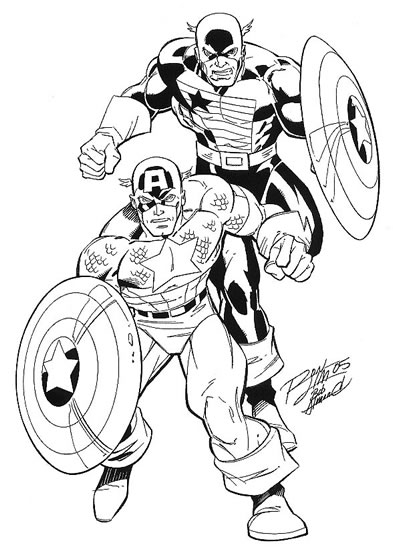 I say Ron Lim is a good guy — though I've met him only this one time at WonderCon — because of the friendly and accommodating way he handled this commission request. When I approached his table, he greeted me with a jovial "Hi!" and stopped to chat with me, even though he was right in the middle of drawing a sketch for another attendee. Then, when I explained that I wanted to commission a sketch of the USAgent, he seemed genuinely pleased, even though he had a lengthy sketch list already in front of him. He complimented the quality of the scan of the character that I'd brought for reference (for the sketch he was doing when I approached, the buyer had given him a darkly copied, difficult-to-see, eye-strainingly minuscule picture of whatever the requested character was). And best of all, he said, "What would you think about me doing a two-character piece with Cap and the Agent?" To which suggestion I agreed, as you can see.
Next up is another two-shot that began as a convention sketch, though not one I commissioned originally. As you can see by the date, penciler Dan Jurgens — best known as the artist who killed the Man of Steel in the now-legendary "Death of Superman" storyline some years back — drew the original at a convention in 1999. I purchased it from an art dealer last year.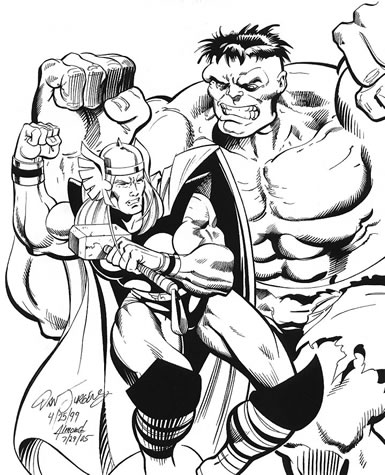 I've never had any direct communication with Dan Jurgens, but I'm convinced that he deserves "good guy" status. Last fall, not long after I purchased the Thor vs. Hulk pinup above, the dealer who sold it to me e-mailed me to say that Jurgens would be dropping in as an unannounced guest at an upcoming convention in the Minneapolis-St. Paul area. Jurgens wasn't planning to set up a table and do sketches, but the dealer suggested that, since I liked Dan's art, he'd ask whether Dan would make an exception and do a sketch for me. I asked for a drawing of
Booster Gold
, a character Jurgens created,
and the artist eagerly complied
. Any artist who takes on a commission project for a fan he doesn't know on a weekend when he's not planning to work rates a "good guy" ranking, in my estimation.
Bob Almond contributed some mighty fine inking to both of these artworks. Since these were convention sketches, they started out rougher and looser than most of the pencil art Bob gets to work on, so he had to add a considerable amount of linework to finish each piece.
I'm always impressed with Bob's ability to adapt his approach to just about any penciler, without taking anything away from the original artist's vision, yet adding ample strength and clarity of his own. Unlike some inkers, whose technique imprints everything they touch — such artists as Tom Palmer, Klaus Janson, and Terry Austin, to name three — Bob's such a stylistic chameleon I can't always easily identify art that he has inked. I always know, however, that any piece entrusted to him will turn out beautifully. Thanks, Bob!
And that, my friends, is your Comic Art Friday.