Last Son and Daughter of Krypton
Today's Comic Art Friday is brought to you by truth, justice, and the American way. Accept no substitutes. Even when your elected representatives do.
Two Comic Art Fridays ago
, we made a before-and-after comparison of a gorgeously tight pencil rendering of Marvel Comics' heroine Elektra by artist
Al Rio
, and the finish work of a second artist (
Geof Isherwood
) commissioned to complete the artwork in ink. In that comparison, we noted how even a pencil drawing as precisely detailed as Rio's could be enhanced by a skillful inker like Isherwood.
Now here's another Al Rio pencil drawing, this time starring those Kryptonian cousins, Superman and Supergirl, as they rescue a young lad from danger.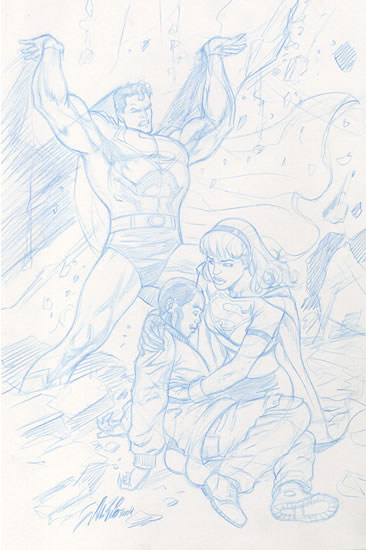 You'll notice that this piece, in contrast with the Elektra, is very loosely drawn. It's actually a preliminary sketch for a finished artwork Al created and auctioned off for the Southeast Asian tsunami relief effort earlier this year. (The end product turned out very differently from this original conception, with both Supes being replaced by other characters.) Artists frequently "rough draft" ideas in this way before committing themselves to a final version.
I was fortunate enough to acquire this sketch from Al Rio's art representative. Knowing that the piece would need to be finished before taking up permanent residence in my collection, I sent it off to
Bob Almond
, a superbly talented inker best known for his frequent partnerships with penciler Sal Velluto, including a lengthy run on Marvel's
Black Panther
and some flat-out stunning work currently appearing in
Captain Gravity and the Power of the Vril
, published by
Penny-Farthing Press
.
Below is the completed piece after the Almond touch has been applied.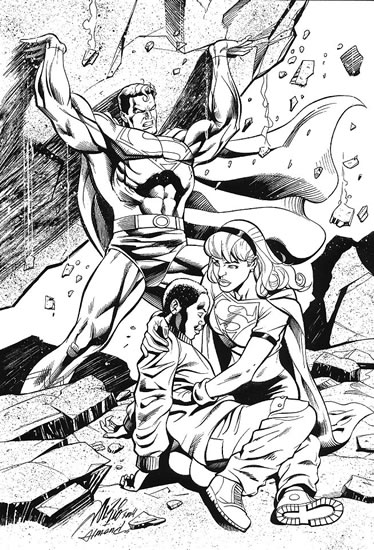 As you can see, Bob had a great deal more initial work to do on this drawing, given that most of the details were only loosely sketched out. I'll let Bob tell you in his own words how he tackled the project,
as described on his Web site,

Almond Ink
:
"I elaborated on the pencil art and then finished the image in ink. I used brush, markers, brush marker, white and black ink spatter, razor blade scrapings, and dry brush."
One of the features I admire most about Bob's inking style is his use of effects. He's a master at creating realistic textures with ink spatter and brush stippling, both of which you can see here.
This is the first commission Bob has completed for me, and as impressed as I've been with his published work and image scans of his commission projects, holding this beauty in my hands today just floored me. I can hardly wait to get another of my pencil pieces into his gifted hands.