You go, Supergirl!
Our local high school handed out its annual academic awards this morning. KM earned recognition twice:
She made the Principal's List, which honors students with a 3.74 or higher grade point average.

She also earned a special certificate for having a cumulative 4.0 GPA for the first two years of high school.
Is her dad proud? Is a bear Catholic? Does the Pope...wait, I seem to have that backwards. Never mind.
KM deserves the accolades, even if her father says so himself. She takes her schoolwork seriously (but not obsessively) and works hard to do well. She certainly does much better academically than did her "underachieving genius" dad, who despite having the highest SAT scores (and, according to one faculty member, the highest IQ) in his graduating class, pretty much coasted through high school on native intelligence and charm. (At least, I think that's what it was.)
In KM's honor, here's a Comic Art Friday extra: Supergirl, courtesy of the great
Legion of Super-Heroes
artist Jeffrey Moy.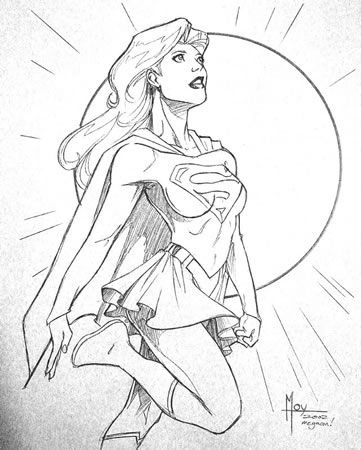 KM's favorite shirt is a pink hoodie with Supergirl's "S" logo emblazoned across the chest. She was wearing it today when she picked up her awards. Describes her pretty accurately, I think.
(Sidebar: I've given up trying to figure out the arcane manner by which GPA is computed nowadays. When I was in high school, you couldn't have a GPA over 4.0, because that was the maximum value. Today, KM's class had nine kids with GPAs ranging from 4.29 to 4.35. Must be that "new math" we used to hear about.)