Serenade your love muffin with a Singing Valentine!
Hello, young lovers. (Hey, we're all lovers, and young at heart if not in chronology, right? So, yeah, I'm talking to you.)
Valentine's Day is fast approaching, and you're out there thinking (I know, because I can hear you)...

"What can I do to make this a memorable Valentine's Day for my special someone? Flowers? Done that. Chocolates? Done that. Lingerie? How much Victoria's Secret does one relationship need, really?"
I've got the answer right here for you, bunkie.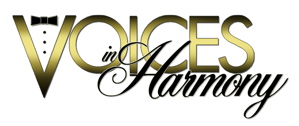 Send your significant other (or someone you'd like to persuade to be your significant other, or just otherwise impress) a
Singing Valentine
, delivered by a quartet of talented vocalists from the International Bronze Medal-winning
Voices in Harmony
, northern California's premier men's a cappella ensemble!
Now, I know what you're thinking (I can hear you, remember? kind of scary, huh?)...
Voices in Harmony
is based in the San Francisco Bay Area, and my sweetness lives way the heck out in the boondocks of East Bumbershoot, New Hampshire. How can VIH serenade my
objet d'amour
from such a daunting distance?
Have no fear, friend Romeo! (Or friend Juliet — we're equal opportunity Cupids here.)
In addition to our
live-and-in-person Singing Valentine service
available throughout the central and south Bay Area, VIH can deliver an audio
Singing Valentine
by phone, or a video
Singing Valentine
via e-mail, anywhere your heart desires! (Within the limits of current technology, of course.)
Telephonic Singing Valentines
cost a mere $20.
Video Singing Valentines
are a steal at $35. It's a pittance either way, considering the benefits you could score (if you know what I mean, and I think you do) once your dreamboat experiences the ear-caressing, heart-touching vocal magic of
Voices in Harmony
.
Singing Valentine
deliveries can be scheduled throughout Valentine's Day weekend, February 13 through 15. That means triple the opportunities to dazzle your certain someone.
So, why are you still reading this? Pop on over to
Voices in Harmony Central
and order up some
Singing Valentine
love!
You know you want to.
While you're visiting
the Voices in Harmony site
, why not order a copy of our debut CD,
Now & Then
?
This spectacular album, recorded in the world-famous, Oscar-winning studios at Lucasfilms' Skywalker Ranch, has just been nominated as
Best Barbershop Album of 2008
by the Contemporary A Cappella Society.
Don't let that word "barbershop" throw you —
Now & Then
contains rich choral interpretations of modern classics ranging from The Turtles to Bobby Darin, from Barbra Streisand to Billy Joel, from Disney to Hank Williams. We even toss in a dash of Sinatra, just to show that we can still kick it old school.
A
Now & Then
CD adds the perfect accompaniment to a
Singing Valentine
. (Did I mention that
Singing Valentines
start at just $20? That's practically insane.)
Now go, grasshopper, and
let your plastic do the talking
.
Tell 'em your Uncle Swan sent you.
Labels: Cool Stuff, My Home Town, Soundtrack of My Life