Did you ever know that you're my Hero?
The artwork featured in today's Comic Art Friday is, at 2.5 by 3.5 inches, far and away the smallest piece in my collection. It's special, however, for reasons that go beyond its size... or even its content.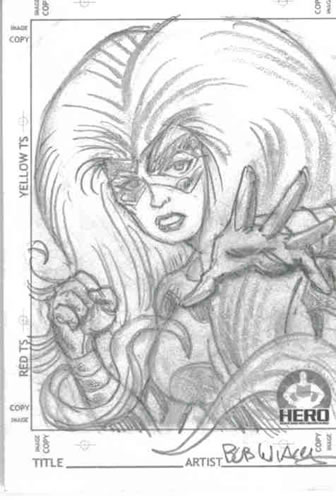 It's a drawing of
Medusa
, the prehensile-haired member of that mysterious family of superpowered beings known as the Inhumans. Medusa has also, at various times in her career, fought alongside the Fantastic Four, even joining as a temporary member when Susan Richards, the Invisible Woman, took a leave of absence.
Medusa appears here courtesy of industry veteran
Bob Wiacek
, who has done the majority of his considerable comics work as an inker. Bob's inks have graced dozens of titles since the mid-1970s, most recently DC's
The Brave and the Bold
over the pencils of the legendary George Pérez.
Okay, I know what you're thinking.
What's so special about a head sketch of Medusa by Bob Wiacek?
The logo at bottom right answers this question.
I received this sketch card when I became a member of
The Hero Initiative
, to which I'll refer henceforth as
Hero
, for the sake of brevity. Hero is a federally chartered 501(c)(3) not-for-profit corporation established by several comics publishers to aid comic book creators who find themselves in financial hardship. Hero provides veteran comics writers and artists — who generally worked freelance for microscopic wages during much of the industry's history — with funds for emergency medical care and basic necessities to get them through difficult times.
Hero began in 2001 as ACTOR (A Commitment to Our Roots). A couple of years ago, the organization adopted its current name, to avoid confusion with charities benefiting members of the acting profession. Hero's leadership includes a panel of prominent industry insiders, including such noted artists and writers as Dick Giordano, Roy Thomas, Dennis O'Neil, John Romita Sr., and the aforementioned George Pérez.
As part of its fundraising efforts, Hero recently began offering annual memberships. One randomly selected sketch card, each created especially for Hero by an assortment of talented artists, is included in the membership packet. My Bob Wiacek Medusa card arrived in the mail just a few days after I signed up.
In a magnificent gesture of partnership, Comic Art Fans — the site where I maintain my online art gallery — is offering its subscribers a $10 discount on their annual fee if they purchase a Hero membership. You'll notice a Hero Initiative logo marking the galleries of those Comic Art Fans denizens who also are Hero members. Including yours truly.
Like many longtime comics fans, I harbor a deep appreciation for the gifted folks whose creative talents have been an essential element of my life for more than 40 years. I've supported Hero for the past few years by dropping a few dollars in the collection can at the Hero Initiative booth at WonderCon every February. I'm pleased and honored to have yet another way to give something back to the artists and writers who've provided me with so much entertainment.
I know times are tough for everyone at the moment. They're especially tough for some of the older comics creators whose careers provided little opportunity for significant savings, or such essentials as health insurance. If you're a fan of comics, and you can spare as little as $29, you too can become a member of Hero, and do your part to help. If you can't afford a membership, you can donate any amount that fits your wallet at
the Hero Initiative site
.
Like the Hero tagline says,
everyone deserves a Golden Age
.
And that's your Comic Art Friday.
Labels: Comic Art Friday, Hero of the Day