Hot pants!
Today's Comic Art Friday is going to be performed James Brown style. That means I only have time to hit it and quit.
So let's hit it.
One of my favorite comic book reads last week was
Supergirl
#34. It's the book's first issue with
its new creative team, writer Sterling Gates and artist Jamal Igle
. Tough to be certain after just one issue, but so far, I like the direction that Gates and Igle have mapped out, both narratively and visually. Anything that takes Supergirl back to the fun and fascinating character she was in her 1970s heyday works for me.
Speaking of the '70s, artist
Gene Gonzales
shares my affection for Kara Zor-El, and for the costume she wore back in the Disco Age.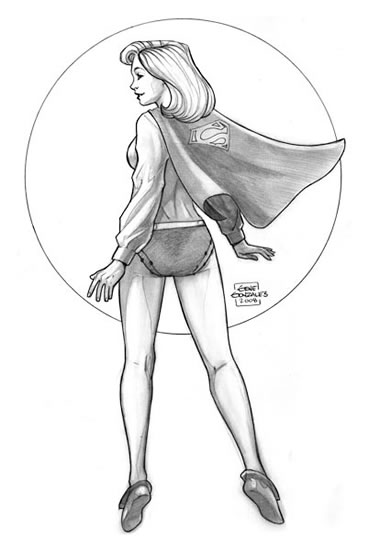 I love Jamal Igle's work, but if he ever gets tired of drawing Supergirl's adventures, Gene would be a fine next choice.
It was the late, great Godfather of Soul who once said,
"Hot Pants — she got to use what she got to get what she wants."
Perhaps the Hardest-Working Man in Show Business was a Supergirl fan, too.
And that's your Comic Art Friday.
Maceo!
Labels: Comic Art Friday, Soundtrack of My Life