As nervous as a canary in a cathouse
Last week, we kicked off
our Talk Like a Pirate Day edition of Comic Art Friday
with artist Jeffrey Moy's
Common Elements pairing of two classic heroines
from comics' Golden Age:
the Black Cat
and
the Black Canary
.
Proving that buccaneer boots remain fashionable crime-fighting footwear even when it isn't pirate season, the Cat and the Canary return today, starring in my
"Bombshells!" pinup theme
. For the benefit of any newcomers,
"Bombshells!"
features Golden Age heroines (for our purposes, that era encompasses the late 1930s through the 1950s) in original artworks modeled after vintage bomber nose art.
One of comics' most popular heroines during the Golden Age,
the Black Cat
debuted in 1941. She continued to appear in her own feature, and eventually, her own self-titled comic, until 1951. Her "Bombshells!" appearance — no "Cat-Tastrophe," despite its tagline — is drawn by pinup specialist Dan Veesenmeyer.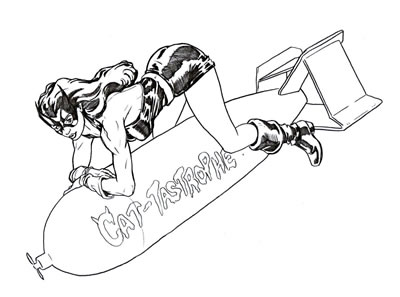 Dan, who has created several other Bombshells! previously, offers a delightful rendition of Linda (Black Cat) Turner here. Dan often adds clever details to his drawings — note the cat ears on the "C" of "Cat-Tastrophe."
During her decade-long run, the Black Cat spawned numerous imitators. One of these eventually became even better known than the original.
The Black Canary
arrived on the comics scene in 1947, and soon established herself as a regular. An modernized Canary continues to star at DC Comics today, both in her own series (
Green Arrow and Black Canary
) and as a member of the Justice League of America. Our Black Canary "Bombshell!" is rendered in splendidly retro style by
Terry Beatty
, co-creator of the noiresque detective comic
Ms. Tree
.
Many artists shy away from drawing Black Canary because of her trademark fishnet stockings. When we discussed this commission, Terry professed his undying love for the fishnets. As you can see, especially in
the link to the larger image
, he rendered them with painstaking perfection.
Looking at these two gorgeous drawings, I'm grinning like the cat who swallowed the proverbial canary. Messrs. Veesenmeyer and Beatty will return with new Bombshells! next week.
And that's your Comic Art Friday.
Labels: Comic Art Friday