Brown paper packages tied up with strings
It's always nice to be noticed.
This week, the fine folks at
Comic Art Fans
— which hosts the online galleries of hundreds of comic art collectors, including
yours truly
— graciously showcased your Uncle Swan as their Premium Member of the Week. (Anyone can post a gallery at CAF without cost; Premium Members are the folks who help support the site via a nominal annual contribution.) Yesterday's CAF newsletter featured a brief interview, conducted via e-mail, about me and my comic art hobby.
The toughest question I'm ever asked about my collection — and of course, the CAF interviewer asked it — is,
"Which is your favorite piece?"
I'm always tempted to answer,
"The one I received most recently."
I always fall a little bit in love with the newest addition to my gallery — I think most collectors (regardless of what they collect) do. Beyond that, it's a difficult call. Every picture tells a story, as Rod Stewart once observed, and it's no easy task to select the story that moves me the most. Every artwork I own, and in particular, every piece that has been created for me personally, occupies its own little realm of favoritism in my heart.
Complicating the matter is the fact that my collection is really several distinct collections united only by my ownership. There are my two theme galleries,
Common Elements
and
Bombshells!
; my character galleries, highlighted by my
Wonder Woman
,
Supergirl
, and
Black Panther
and
Storm
collections; and the abundance of art that doesn't fall into one of these categories. I have favorites in each of these. Attempting to compare them is like deciding whether I prefer pizza or sushi.
So, here are a few of my favorites. They aren't my only favorites. Ask me tomorrow, and I might compose an entirely different list.
"Maces High" (Thunderstrike and Hawkman)
Pencils by
Keith Pollard
Inks by
Joe Rubinstein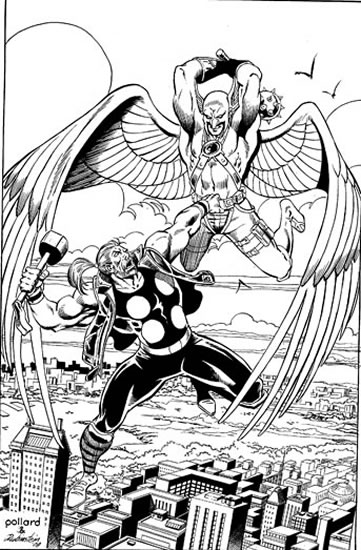 Why it's a favorite:
Keith Pollard has been one of my favorite comic artists since I first discovered his work in the late '70s. This assignment was one of the first commissions Keith accepted when he returned to drawing after a decade-long layoff. He totally rocked the execution of the scenario, packing in an incredible level of detail. Joe Rubinstein, one of modern comics' greatest inkers and another personal favorite, finished Keith's creation in exceptional style.

Wonder Woman
Pencils and inks by
Geof Isherwood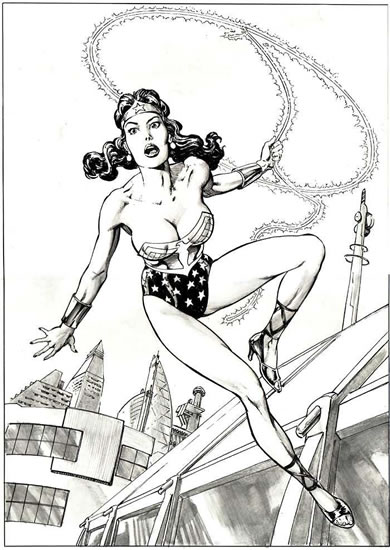 Why it's a favorite:
As Comic Art Friday regulars know, I loves me some Wonder Woman, and I also love the work of artist Geof Isherwood. Thus, we have two great tastes that taste great together. Geof has created a number of spectacular pieces for me (his Suicide Squad commission was featured in
Back Issue
magazine), inked several others that he didn't pencil (including a jaw-dropping Wonder Woman scene penciled by Michael Jason Paz), and is a terrific person in addition to his monumental talent. His Diana is so breathtakingly lifelike that she leaps off the page. Plus, Geof gave her peculiar shoes.
Spider-Man and Mary Jane
Pencils and inks by
Bob McLeod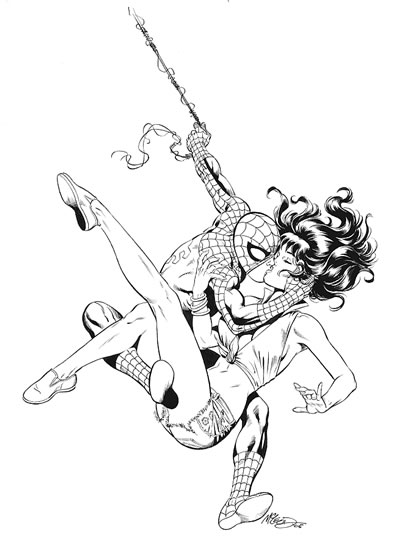 Why it's a favorite:
Comics veteran Bob McLeod infused this pairing of my boyhood hero and his lady love with such
joie de vivre
that it makes me grin like a fat man at a buffet every time I look at it. Joe Quesada can go take a long swing off a short web.
"Jetpack Jockeys" (Adam Strange and the Rocketeer)
Pencils and inks by
Michael Peters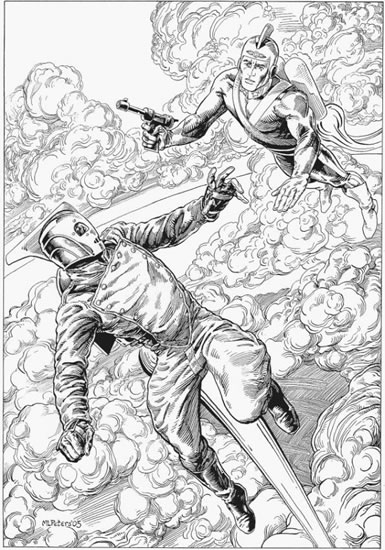 Why it's a favorite:
Heavy Metal
artist Michael Peters draws the finest Rocketeer this side of the late, great Dave Stevens, the megatalent who created the character. I adore this piece so much that it's on permanent display in my living room. It's so cool that my wife doesn't even mind having it there. (At least, I don't think she does.)
Taarna
Pencils by
Mel Rubi
Inks by
Bob Almond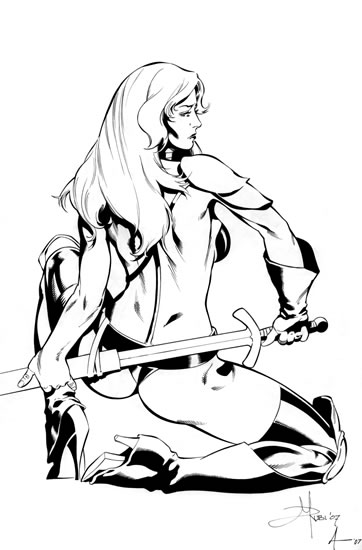 Why it's a favorite:
Speaking of
Heavy Metal
— the film this time — I believe that I'm the only comic art collector in the universe with a gallery of original Taarna commissions. This character speaks to me in ways that I can't fully explain, even though she never utters a word throughout her segment of the legendary animated classic. Mel Rubi's dramatic pose makes this, without question, the most visually arresting Taarna image that I've ever seen. And she's all mine.
Bwah-ha-ha!
Superman and Wonder Woman
Pencils by
Mike Wieringo
Inks by
Richard Case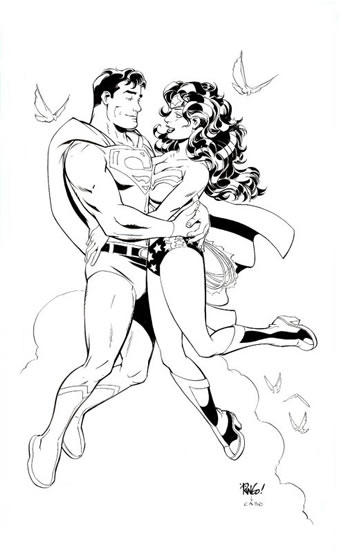 Why it's a favorite:
Because I sorely miss Ringo, a phenomenal artist taken from us far too soon. It's charming and winsome and all kinds of beautiful... just like everything Mike ever drew.
"Blind Man's Bluff" (Daredevil and Doctor Mid-Nite)
Pencils by
Ron Wilson
Inks by
Bob Almond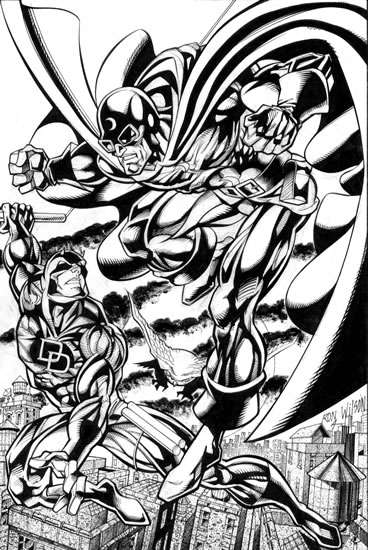 Why it's a favorite:
Bronze Age star Ron Wilson — one of Marvel Comics' busiest cover artists in the 1970s and '80s, and the regular penciler on the fondly remembered series
Marvel Two-in-One
— created this powerful, hyperkinetic matchup of comics' two sightless adventurers. Bob Almond, founder of the Inkwell Awards, polished Ron's pencils to a superheroic sheen.
Mary Marvel
Pencils by
Steve Mannion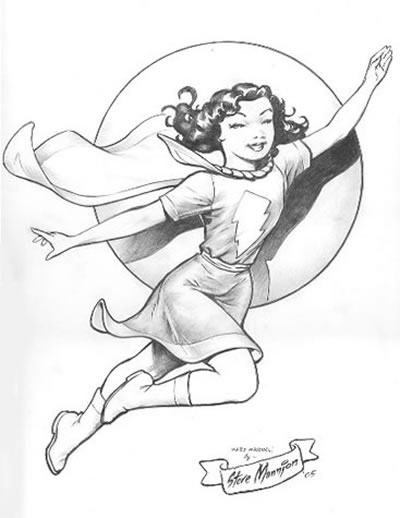 Why it's a favorite:
Because she's just so darned cute.
Every time I page through my comic art collection, I hear Julie Andrews singing. Some days, these exquisite images form the thinly drawn boundary between sanity and madness...
When the dog bites
When the bee stings
When I'm feeling sad...
I simply remember my favorite things
And then I don't feel so bad.
And that's your Comic Art Friday.
Labels: Comic Art Friday