Identity theft, superhero style
We interrupt this post for an urgent news bulletin.
Senator Barack Obama wanted to name me as his vice presidential running mate this afternoon. I have declined, however, as the resulting firestorm of media attention would have prevented me from completing today's Comic Art Friday.
So he's going with the other guy.
We now return you to your regularly scheduled post.
My friend and fellow comic art collector Damon Owens
has a particular fondness for the "forgotten heroes" of comics history, especially those whose adventures were published by little-known or short-lived companies. In fact, Damon has an entire gallery of commissioned artworks devoted to what he calls
"The Dead Universes Project,"
a showcase for characters whose fortunes evaporated when the publishing entities who created them did likewise.
Although the DC Comics universe remains alive and well, I have a feeling that Damon will enjoy today's Comic Art Friday spotlight.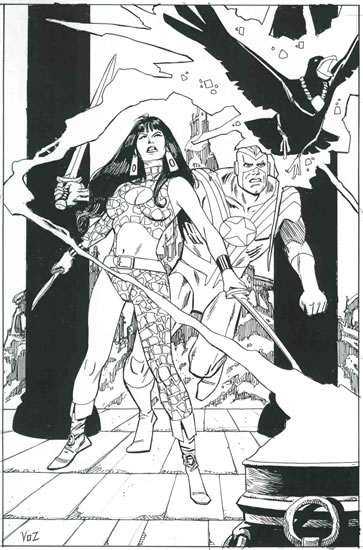 I've entitled this incredible drawing by Mike Vosburg "Identity Theft," because it illustrates the level of indignity often perpetrated by comic book publishers on their less popular characters. The dynamic duo depicted here are
Starfire
(left) and
Steel
(right), both of whom headlined their own DC series in the 1970s.
Starfire
ran for a mere eight issues, beginning in August 1976.
Steel, the Indestructible Man
lasted for even less time, bowing out after only five issues in 1978.
Now, if you're a relatively recent reader of DC's oeuvre, you may be thinking, "That doesn't look like either the Starfire or Steel I'm familiar with." And you'd be right. Since 1980, the name Starfire has been associated with
a completely different DC superheroine
, an orange-skinned alien who's probably best known as a member of the Teen Titans. As for Steel, that code name has been worn for the last 15 years by
the hammer-swinging, armor-clad scientist-hero whose real name is John Henry Irons
, as portrayed (and I use the term loosely) in
an ill-conceived 1997 live-action motion picture
starring basketball legend Shaquille O'Neal.
Your confusion, therefore, is understandable.
Though she's all but forgotten today, the "original" Starfire (I use the quotes because DC actually had another, even more obscure — and male — superhero who briefly used the name for a single issue of
Teen Titans
in 1968) was a nifty character in her own right. Created by artist Vosburg and writer David Michelinie, Starfire lived on a distant planet torn by civil war. The daughter of slaves, young Starfire trained in various martial arts — most noticeably, swordsmanship — awaiting the day when she could lead her people in revolt against their oppressors.
Starfire's adventures offered an intriguing amalgam of the science fiction and sword-and-sorcery genres that were popular in the '70s. One might think of her, in fact, as sort of an interstellar
Red Sonja
. For whatever reason — most likely, the lack of evident connection to the mainstream DC universe —
Starfire
didn't catch fire with readers. In the 30 years since her book's cancellation, she's made only a couple of token reappearances.
Today's more famous Starfire — whose real name is Koriand'r — teams up in this Common Elements commission with
the mysterious Question
. Behind the latter's featureless face mask lurks crusading journalist Charles Victor Szasz, whose
nom de plume
is Vic Sage. If you spend any time puttering in the kitchen, you'll quickly figure out what Koriand'r and Sage share in common. The artist here is rising indie comics star Shawn Surface.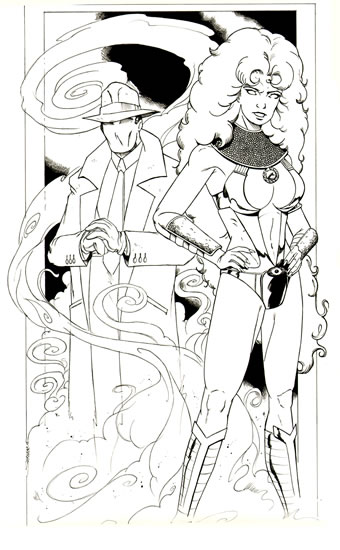 Steel, of
Indestructible Man
fame, has fared slightly better than has Starfire. Even though his eponymous series was pretty much dead on arrival — again, partly due to the fact that it lacked continuity with other DC books, as the stories were set in the 1930s — Steel (or Commander Steel, as he was also known) has inspired at least two generations of descendants endowed with his cybernetically induced powers (for the most part, super-strength and the aforementioned invulnerability). The original Steel's grandson served during the 1980s as a member of the Justice League of America using the Steel code name. Another modern-day relation — a cousin of the second Steel — battles evil with the recently revitalized Justice Society, under the moniker Citizen Steel.
The current Steel — a.k.a. John Henry Irons — fights a losing battle with the mighty Thor in this Common Elements smackdown designed and penciled by the great Trevor Von Eeden, and inked by the equally great Joe Rubinstein.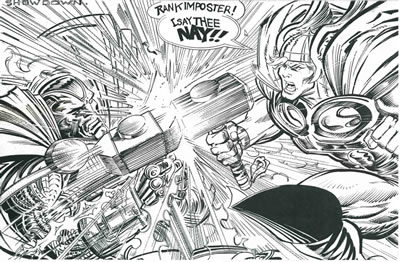 Let this be a lesson to you, friend reader: Guard your superhero identity carefully. There's always an interloper waiting in the wings to swipe your code name.
And that's your Comic Art Friday.
Labels: Comic Art Friday, The Body Politic