Get a piece of LaRocque
All right, I'll admit it...
I pretty much blew off July here at SSTOL. Ironic, since we celebrated our fourth blogiversary back on the eleventh of the month. (Belated gifts — especially of cash — will still be cheerfully accepted.)
Sorry about that.
Let's crank up August with a solid Comic Art Friday, featuring a pair of recent additions to my
Common Elements
theme. Both of today's artworks were created by longtime comics artist
Greg LaRocque
, who's best known for his runs on
Legion of Super-Heroes
and
The Flash
for DC Comics, along with
Power Man and Iron Fist
and various Spider-Man titles (
Web of Spider-Man
,
Marvel Team-Up
) at Marvel.
As I was channel-surfing one night a few months back, I stumbled across a rerun of
Stephen King's It
, that craptastic made-for-TV adaptation starring a horde of washed-up TV actors (including Richard "John-Boy" Thomas, Harry "Night Court" Anderson, Tim "Venus Flytrap" Reid, and the late John Ritter) and occasionally enlivened by gratuitous Annette O'Toole sightings, plus Tim Curry's genuinely frightening appearances as the demonic clown Pennywise.
If you've seen the movie (or, I presume, read the book), you'll recall that Thomas's character (a horror novelist who serves as author King's avatar) overcame a childhood stuttering problem by repeatedly reciting the mantra, "He thrusts his fists against the posts and still insists he sees the ghosts." When I heard that line afresh, I thought, "Now there's a Common Elements artwork waiting to happen." So I commissioned Greg LaRocque to draw it. I figured that was appropriate, since one of Greg's earliest published assignments was a story in DC's horror anthology,
Ghosts
.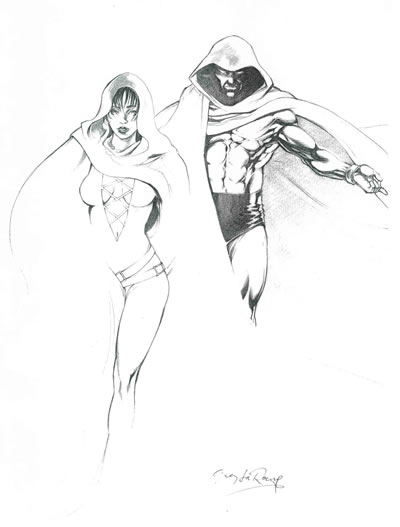 On the left, that's
Ghost
, a tentpole character for Dark Horse Comics in the mid-1990s. On the right is
the Spectre
, a stalwart of the DC Comics universe since the early 1940s, when he was a charter member of the original super-team, the Justice Society of America.
Although she hasn't been seen much in the last decade or so,
Ghost
's place in comics history was secured by the popularity of fan favorite artist
Adam Hughes
, who drew interior art for the series' first few issues, as well as several of its covers. A number of prominent creators — including Matt Haley, Terry Dodson, Doug Braithwaite, Ivan Reis, and John Cassaday — contributed art after Hughes moved on.
The Spectre
may well be the most powerful superhero ever created for comics. When a police detective named Jim Corrigan is murdered, he becomes a spirit avenger in the employ of the Almighty Himself. The Spectre's abilities are practically without limit — when you work directly for God, you get all the cool tools — to the degree that the character has always seemed... well... somewhat pointless. (Why doesn't he just rid the universe of evildoers, and be done with it?) In recent years, other characters have replaced Corrigan as the Spectre — Hal Jordan, the second Green Lantern, had the job for a while, and another detective,
Crispus Allen
, served as the Spectre's human host the last time I checked.
Even as he was rendering our ghostly duo, LaRocque found time to craft a second Common Elements creation. You'll want to click the image to get a super-sized look at this one.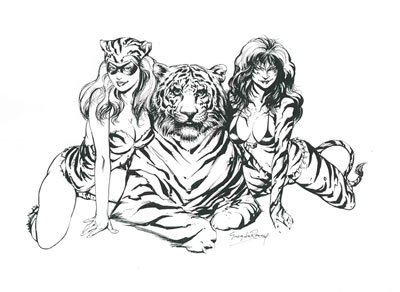 Tiger Girl
, the masked feline on your left, is comics' version of such TV series as
South of Sunset
and
Co-Ed Fever
: Canceled after a single episode. Tiger Girl's sole appearance came in the lone issue of her eponymous comic, published by Gold Key in 1968. Too bad, really — feline-themed characters have enjoyed a storied history in comics (in fact, there was an earlier Tiger Girl in the 1940s — she, however, was more in the Sheena, Queen of the Jungle mode), so Tiger Girl might have caught on if given the chance. By the way, that's her sidekick Kitten, a trained circus cat, lounging in the center.
Our furry feline to the right is
Tigra
, a Marvel Comics heroine with an interesting backstory. When she first arrived on the scene in 1972, Greer Nelson assumed a rather traditional superheroic role as a yellow-and-blue-costumed crimefighter called the Cat. Her solo series,
The Claws of the Cat
, ran for a mere four issues before cancellation. A couple of years later, Greer was transformed into "Tigra the Were-Woman," a humanoid with tiger-like orange fur, black stripes, and the requisite claws, fangs, and tail. In her new persona, Tigra developed into a popular second-string Marvel character, most notably as a member of the Avengers (and later, of the spinoff West Coast Avengers).
Just curious...
If a werewolf is a human who transforms into a wolf, shouldn't a "were-woman" be a man who transforms into a woman? That would be a whole other comic book, I guess.
Incidentally, there's an additional connection between today's showcased artworks, aside from the artistic talents of Greg LaRocque. Both the Spectre and Tiger Girl were dreamed up by the same writer: Jerry Siegel, who also co-created a certain blue-clad, red-caped Man of Steel.
And that's your Comic Art Friday.
Labels: Comic Art Friday