The Sage of Santa Clara (1931-2007)
It's a sad, sad day here in the Bay Area...
The Genius has died.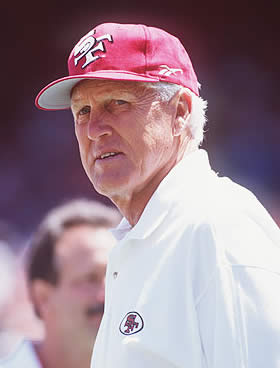 Bill Walsh
, who guided the San Francisco 49ers to four Super Bowl championships (all right, you nitpickers, three — but the team that won Super Bowl XXIV the year after Walsh's retirement was essentially the same team that had won with Walsh coaching the year previously) and six division titles, died this morning after a tough battle with leukemia. The architect of the fabled West Coast Offense was 75.
One could argue, with little fear of refutation, that Walsh was the most influential and innovative head coach in NFL history. Influential,
as reflected in the legions of Walsh protégés (and second- and third-generation protégés)
who followed the white-haired strategist to coaching prosperity. Innovative, in that the style of offensive football Walsh introduced completely changed the way the game is played, not just in the NFL, but also at the college and even the high school levels. Every significant coach who has drawn up a playbook in the past 25 years has borrowed something from Bill Walsh.
It's a cliché, especially in sports, to say of the recently deceased, "I never heard anyone say a bad word about the man." In Walsh, the cliché found its reality. His former players — including current and future Hall of Famers Joe Montana, Jerry Rice, Steve Young, and Ronnie Lott — revered him. His former assistants credited him with their accomplishments. The media loved him, knowing that the Sage of Santa Clara could always be counted upon for a meaty soundbite.
In a lot of ways, Walsh was the antithesis of the stereotypical Knute Rockne/Vince Lombardi image of the head football coach. He was erudite, intellectual, and soft-spoken é at least, outside the locker room. He struck more the impression of a university philosophy professor than of a man who made his living drawing X's and O's on a whiteboard. Walsh also possessed a mischievous sense of humor: When the 49ers arrived in Detroit in January 1982 for their first-ever Super Bowl appearance, the hotel employee on hand to assist with their luggage seemed oddly familiar. It was the team's head coach, outfitted in a bellman's cap and uniform.
Because Walsh became so thoroughly identified with the offensive system he pioneered, many fans forgot — or perhaps never knew — that he began his career as a defensive coach at Cal-Berkeley and Stanford in the early 1960s. He changed his focus to offense when he was hired by Al Davis as an Oakland Raiders assistant coach in 1966.
It's also easy to forget, given Walsh's tremendous triumphs with the Niners, that he came to NFL head coaching relatively late — he was 47 or 48 when San Francisco lured him away from Stanford — and that his first two 49er teams finished with 2-14 and 6-10 records. Then, with a short, scrawny kid from Notre Dame leading the charge at quarterback, and a quartet of unproven defensive backs (third-year safety Dwight Hicks and his three rookie "Hot Licks" — Ronnie Lott, Eric Wright, and Carlton Williamson) snatching interceptions from the air like they were cookies in a jar, Walsh's Niners went 13-3 in 1981, and never looked back.
Walsh was a progressive thinker, off the gridiron as well as on. He created the Minority Coaching Fellowship, a program that invited African American coaches to the 49ers' camp to gain NFL insight and experience. Current University of Washington head coach Tyrone Willingham was among the many who benefited from Walsh's desire to reach out. Today, the NFL's ongoing initiative on minority hiring stems from Walsh's leadership.
Thanks for all the marvelous memories, Coach. We'll miss you.
Our condolences to Coach Walsh's family, and the countless friends, colleagues, and fans who will continue to honor his legacy.
Labels: Dead People Got No Reason to Live, My Home Town, Ripped From the Headlines, Sports Bar