And you thought this only happened to Katie Holmes
Call it
Identity Theft, NC-17
.
A Houston woman named Kristen Syvette Wimberly is
suing her former high school BFF
, Lara Madden, who has built herself a tidy little career in adult films using the
nom de porn
Syvette Wimberly.
I think you can see the problem here.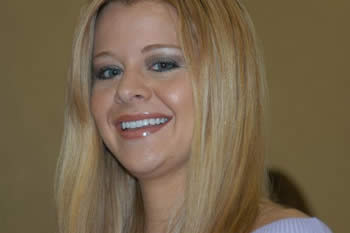 The faux Syvette Wimberly (pictured above, in a rare fully clothed moment) has appeared in about a dozen motion pictures "for more mature audiences" made by porn entrepreneurs Vivid Entertainment, also named as defendants in the lawsuit. Predictably, Vivid management declined comment on the pending legal action.
The real Syvette Wimberly claims that the misappropriation of her handle for lascivious purposes has resulted in "humiliation, embarrassment, loss of enjoyment of life, emotional distress, mental anguish and anxiety."
Not to mention 20 or 30 blind dates, and numerous proposals of marriage.
I guess I'm fortunate that, to the best of my knowledge — not that I've done extensive research in this area, mind you — no male porn star has ever used my name as a pseudonym. That would be a huge burden to bear. So to speak.
Let this be a lesson to you expectant parents: If you give your child a name that sounds like a stripper or a porno queen — say, Syvette Wimberly — expect to see it splashed across a lurid DVD case someday.
Just hope that the photo next to the name isn't your daughter's.
Labels: Aimless Riffing, Cinemania, Ripped From the Headlines, Sexiest People Alive