Hero of the Day: Ready Freddy
Congratulations to San Francisco rookie outfielder Fred Lewis, who
hit for the cycle
in Sunday's romp over the Colorado Rockies.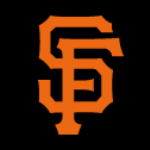 For the baseball-illiterate in the crowd, hitting for the cycle involves getting a single, a double, a triple, and a home run all in the same game. Only 24 players in the Giants' storied history have accomplished the rare feat, most recently Randy Winn two seasons ago. (Barry Bonds, the king of all things Giant for the past 15 years, has never hit for the cycle while wearing the Orange and Black.) Lewis became only the fourth major leaguer ever to hit his first career home run as part of a cycle.
Lewis was called up from the Giants' minor league affiliate in Fresno just four days ago. His previous experience in The Show was 13 garbage-minutes games for the G-Men late last season.
Let's hope the kid keeps the hits coming.
Labels: Hero of the Day, I Love the Giants, Sports Bar