Your one-way ticket to midnight
Today's Comic Art Friday is dedicated to the memory of artist and animator
Ed Benedict
, the longtime Hanna-Barbera stalwart who designed such iconic characters as the Flintstones, Yogi Bear, Quick Draw McGraw, and Huckleberry Hound. Benedict passed away in August at the age of 94, but news of his death only reached the media this past week. Like
Alex Toth
, who died earlier this year, Saturday mornings would not have been the same without the work of Ed Benedict.
Speaking of animation...
We're focusing today on the loudest, nastiest, most hellbent-for-leather animated film ever created — the movie that brought together fantasy comic art and cutting-edge animation in a way that no film had before and few films have since.
That's right: I'm talkin'
Heavy Metal
, baby.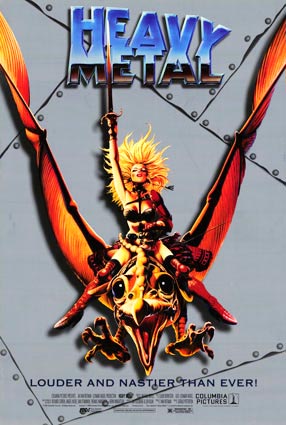 When it exploded into theaters in the fall of 1981,
Heavy Metal
marked the end of an era in which animation was viewed strictly as entertainment for children. It ushered in a new age of adult-focused animation that continues 25 years later.
Part of the film's genius stemmed from the fact that it was conceived by people (specifically, producer Ivan Reitman, then best known for such live-action comedies as
National Lampoon's Animal House
and
Stripes
) with no previous experience in animation, who therefore were unburdened by preconceptions of what could and could not be done.
Heavy Metal
brought together an impressive a dazzling array of animation talent spanning five cities on two continents, incorporating original art and stories by some of the most innovative creators in the field at that time, under the oversight of veteran animation director Gerald Potterton (best known for his work on the Beatles'
Yellow Submarine
). Its effects upon animation cinema, and the fantasy genre in general, continue to resonate even now.
But mostly,
Heavy Metal
kicks major butt.
In case you've never seen
Heavy Metal
— and if you haven't, don't feel bad; a lot of people haven't, for reasons I'll explain later — the film is a series of animated vignettes representing a variety of artistic styles, nominally linked together by a common thematic device: namely, the Loc-Nar, a glowing green ball of evil that wants to destroy the universe. (Hey, this is fantasy were talking about.) Several of the individual stories were adapted from material originally published in the illustrated fantasy magazine
Heavy Metal
, hence the film's name. In order of appearance,
Heavy Metal
takes us through these startling new worlds:
Soft Landing

(directed by Jimmy T. Murakami, from a story by writer Dan O'Bannon and artist Thomas Warkentin). An astronaut exits an orbiting space shuttle in a vintage Corvette convertible, reenters Earth's atmosphere, and drives to his house (which eerily resembles Norman Bates's abode in

Psycho

) in a deserted countryside.



Grimaldi

(directed by Harold Whitaker of Halas & Batchelor Animation). The astronaut Grimaldi gets disintegrated by the Loc-Nar, which he has carried home from space in a briefcase. The Loc-Nar begins a conversation with Grimaldi's preteen daughter, setting the stage for the rest of the film.



Harry Canyon

(directed by Pino Van Lamsweerde, with designs by comic artist Juan Gimenez). A cab driver in a futuristic version of New York city rescues a young woman from a gang of robbers at a museum. It turns out that the woman is the current owner of the Loc-Nar, which the gangsters are determined to possess for themselves.



Den

(directed by Jack Stokes, from a story by popular fantasy artist Richard Corben). A teenage nerd discoverers a glowing green meteorite — in reality, the Loc-Nar — which transforms him into a powerfully muscular warrior and teleports him into a primeval world.



Captain Sternn

(directed by Paul Sabella and Julian Szuchopa of Boxcar Animation, from a story by comic artist Bernie Wrightson). A roguish starship captain gets his comeuppance in a galactic courtroom, when a janitor he had hired as his patsy turns against him in a most surprising way.



B-17

(directed by Barrie Nelson, with designs by comics artist Mike Ploog). An ill-fated bomber pilot encounters the Loc-Nar during a World War II mission, and finds his slain crew members transformed into zombies.



So Beautiful and So Dangerous

(directed by John Halas of Halas & Batchelor Animation, from a story by science fiction artist Angus McKie, with character designs by comics artist Neal Adams). A secretary at the Pentagon finds herself kidnapped by drug-snorting aliens from outer space, and falls in love with a robot.



Taarna

(directed by John Bruno — now a major Hollywood special effects guru — based on the

Arzach

stories by French artist Jean "Moebius" Giraud, and with design work by such talented artists as Mike Ploog, Howard Chaykin, Chris Achilleos, Phillip Norwood, and Charles White III). On a bleak, faraway planet, a peaceful civilization is destroyed by a band of marauders transformed into invincible warriors by the Loc-Nar. Their murderous rampage is thwarted by a mysterious, silent female avenger riding a pterodactyl-like beast.
As anyone who has seen
Heavy Metal
can attest, the segments vary in tone from sublime (
Taarna
) to ridiculous (
So Beautiful and So Dangerous
), from terrifying (
B-17
) to hilarious (
Captain Sternn
). It's sophomoric and aggressively puerile at times, yet when it works — which, for me, is more often than not — it's rough magic.
An additional segment, entitled
Neverwhere
and directed by Cornelius Cole, appears only on the DVD release. Sadly,
Neverwhere
— which traces the history of evil on Earth from prehistory to Nazi Germany — was deleted from the film's theatrical cut due to time considerations, depriving a generation of viewers from a piece of the most emotionally powerful animation ever created, and certainly the most brilliant visuals created specifically for this film.
For years, the entire film was little-seen — outside of midnight movie screenings and occasional, brutally edited airings on late-night cable — as a result of licensing issues over the soundtrack, which features songs by numerous hard rock hitmakers of the early '80s. (It also contains some of the greatest work ever recorded by legendary film composer Elmer Bernstein, whose score is considered a minor masterpiece by some aficionados, yours truly included.) Because of the legal wrangling, no legitimate home video version of
Heavy Metal
existed until nearly two decades after the film's release.
The
Taarna
segment is
Heavy Metal
's centerpiece, occupying roughly the final third of the film's running time, and boasting its most spectacular artistic achievements. Given that I'm a fan of rotoscope animation — a process in which footage is shot initially with live actors, then animated over —
Taarna
remains one of my giddiest pleasures in all of cinema. All of the scenes featuring the title character were created from live action footage of an actress named Carol Desbiens, who only slightly resembles her animated counterpart, but lives and breathes in her every movement. The DVD release contains several snippets of the Desbiens footage, and it's fascinating to watch the transition from live actress to ink-and-paint superwoman.
Given my fondness for
Heavy Metal
— and for
Taarna
in particular — it should surprise no one that I have a few pieces of original Taarna art in my collection, two of which you're about to view.
First, here's a classically styled Taarna pinup, drawn by master "good girl" artist Mitch Foust.
Next, artist Michael Dooney places Taarna in her element in this stunning drawing.
By the way,
Heavy Metal
, the magazine that inspired the film, is still going strong today. It's now owned by comics creator Kevin Eastman, who with fellow artist Peter Laird spawned the ever-popular
Teenage Mutant Ninja Turtles
. (Michael Dooney has worked extensively on TMNT projects over the years.) Eastman even produced an embarrassingly wretched "sequel" to
Heavy Metal
the film, called
Heavy Metal 2000
, mostly so that his centerfold-queen wife Julie Strain could serve as the model and voice actress for the new film's heroine. If you ever have the opportunity to see
Heavy Metal 2000
... pass.
If, however, you get a shot at the original — and you're an adult who isn't easily offended — by all means check it out. It would be the perfect way to end a Comic Art Friday, especially on Friday the 13th.
Labels: Cinemania, Comic Art Friday