Free Comic Book Day is tomorrow!
Here's a Comic Art Friday public service announcement.

Tomorrow, May 6, is
Free Comic Book Day
. Comic book shops across the nation will be giving away free — yes, free — comics, just for the asking. Now, you can't just cruise in and pick up any book off the rack. The free comics are unique editions created especially for
Free Comic Book Day
by various comics publishers. Among the possible selections:
An

X-Men

and

Runaways

teamup saga from Marvel Comics.


Justice League Unlimited

#1 from DC Comics.

A 65th Anniversary edition from Archie Comics.

A

Donald Duck

special from Disney Comics.

A

Simpsons

sampler from Bongo Comics.

A double-sided book featuring

Star Wars

and

Conan

stories from Dark Horse Comics.

Another flipbook, this one by IDW Publishing, includes stories from

Transformers

and

Beast Wars

.

A showcase book from Image Comics contains short scenes from such series as

Spawn

,

Savage Dragon

, and one of my current favorites,

Invincible

.

For manga lovers, Tokyopop will offer a 120-page, three-story sneak preview edition.
Several other publishers, large and small, are giving away special offerings also. You'll find something for every conceivable reader taste and age group.
Do yourself a favor and drop by your friendly neighborhood comics retailer tomorrow, and pick up a free comic. Take a kid with you, and introduce him or her to this amazing storytelling medium. Maybe you can even browse the racks and buy something while you're there. You'll be glad you did. Remember, as your Uncle Swan always says,
"If it's free, it's for me."
Sad to say, original comic art rarely — all right, never — comes my way for free. Pretty much every artwork you see featured here at SSTOL cost me a fistful of hard-earned simoleons, which means you should (a) feel sorry for me and send me money to support my addiction, and (b) be relieved that I don't collect the really expensive stuff.
Fortunately for me — and, indirectly, for you — I keep happening upon supremely talented artists whose work I can acquire without auctioning off body parts. One such artist is pinup specialist Michael Dooney, whose work is beautifully represented in the three sterling examples seen below.
First, Dooney takes on the mutant weather goddess Storm (the character portrayed by Halle Berry in the
X-Men
films, for those of you more conversant with cinema than comics).
Next, Dooney's dignified portrait of the Valkyrie, that stalwart of everyone's favorite non-team, the Defenders. Note the fine detail on her scabbard, and on the paving stones beneath her feet.
Saving the most spectacular for last, here is Dooney's stellar envisioning of one of the great heroines in all of comics, Wanda Maximoff, the Scarlet Witch. The artist truly outdid himself on this one.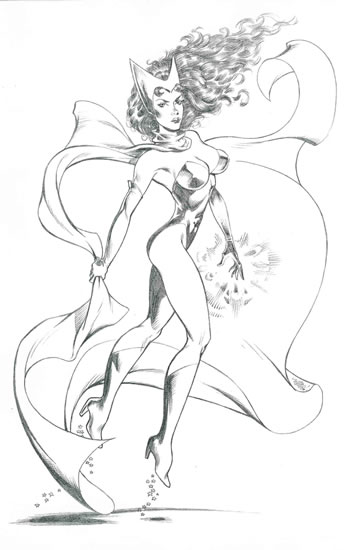 Now, don't these gorgeous images make you want to run out tomorrow and glom onto some free comics? Then go, my little poppets, and enjoy. You can tell the staff at your local comics retailer that your Uncle Swan sent you. (That won't mean anything to them, but maybe they'll think you're feeble-minded, take pity on you, and give you an extra free comic. It couldn't hurt.)
Labels: Comic Art Friday