Bogart was wrong...
...we won't always have Paris.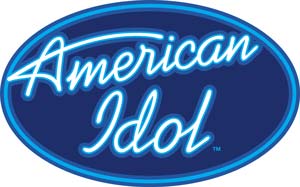 Paris Bennett
, that is. The brassy little belter with the helium-inflated speaking voice hit the highway last night, as
American Idol
zeroed in on its Final Four. From here on out, it's anyone's game.
So, who's still on the glory train?
Chris Daughtry
. When the Top Ten were announced, I predicted a high finish for Chris. He's still one of the front-runners to win — and I believe he's the surviving contestant whom the show's producers would most like to have as the next Idol — but his scraping-the-vocal-cords alt-rock singing style is really taking a toll on his voice. He may be whispering his songs in another week or two if he isn't careful.
Elliott Yamin
. That Elliott is still in the competition amazes me. He has a fine voice, but plenty of negatives to go with it: nervous stage presence; lack of vocal control, which produces an inordinate amount of vibrato; consistently baffling song selection; a face only the mother of Frodo Baggins could love. He should be the next contestant to cash out, but stranger things have happened.
Katharine McPhee
. I've said all along that Katharine's main challenge is consistency. Now that the Idol contestants are performing two songs each week, that challenge is even more apparent — Katharine's first song on Tuesday night was all over the map, but her second was a great improvement. As the most Kelly Clarksonesque of the Final Four, I'm sure 19 Entertainment wouldn't mind having her as runner-up to Chris. There's nothing wrong with her singing that a good producer couldn't fix in the studio.
Taylor Hicks
. I thought Taylor would last until the top three, but he's developed such a following that he could easily win the prize. That would be a nightmare for 19E, who would have zero clue how to market a spastic, 30-ish white guy who sings like Ray Charles's Caucasian cousin. Over the past several weeks, though, Taylor has thrown out some fairly lackluster performances on occasion. At this stage of the game, one really awful number could be all it takes to send him home.
The interesting dilemma for 19E is that none of the Final Four seem especially marketable as hitmaking talent. Chris's strong suit is the kind of grunge rock that ran its course half a decade ago. Elliott's best niche would probably be somewhere along the lines of Michael Bublé or Harry Connick Jr., but the pop charts won't accommodate more than one of those guys at a time. Katharine's talents may be better suited to musical theater than to a pop recording career. As for Taylor... well, like I said.
By the time sweeps are over, we'll know who the next American Idol will be. I know you're waiting with bated breath. Of course, that could be the sashimi you had for lunch.
Labels: Idol Chatter, Teleholics Anonymous