The Eisners and the Comics Hall of Fame
Let's kick off today's Comic Art Friday post by congratulating all
the nominees for the 2006 Will Eisner Comic Industry Awards
. The Eisners are comics' equivalent of the Oscars, recognizing excellence in the field of sequential art. As usual, I haven't read most of the nominated works — only so many hours in the week, plus, not a lot of superhero books make the list — but I have no doubt that all of the nominees are deserving of plaudits.
I always look closely at the Eisners' Comics Hall of Fame nominations, because most of the names are people whose work I know and admire. This year's candidate pool (voters can choose as many as four) contains an august group of worthies. I could make a plausible case for almost every nominee. But if I had a ballot, I'd be throwing my support behind:
Seeing as this is Comic Art Friday, let's admire a couple of works by artists whose names might well appear on the list of Eisner Hall of Fame nominees someday.
Dan Adkins
was one of comics' premier inkers beginning in the 1960s and continuing through the '80s. He started his career as an assistant to the legendary Wally Wood, then developed into a stalwart on his own. Adkins's hallmark is a clean, fluid line.
The original pinup above, featuring a nameless young woman packing a pistol, demonstrates Adkins's flawless draftsmanship as well as his expert inking.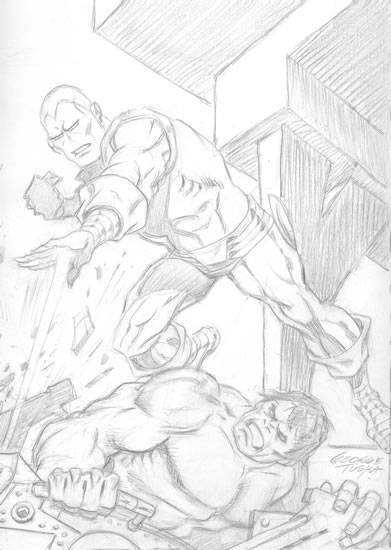 George Tuska
, whose career in comics began in the late 1930s, was one of the first artists I learned to recognize by sight when I started reading comics. His distinctive and dynamic style has a look all its own.
Tuska is best remembered as the main artist on
Iron Man
in the early 1970s, though he worked on numerous other series also. Here he pits old Shellhead against his former fellow Avenger, the rampaging Hulk.
I may never be elected to the Bloggers' Hall of Fame, but give me this, friend reader: I make Comic Art Friday happen for you, week after week. That's worth something, isn't it?
Labels: Comic Art Friday