The Princess and the Paradox
I had a tough challenge deciding on today's Comic Art Friday offering, because several nifty options arrived this week. So lucky you — bonus art today! I can practically feel you squirming with giddy anticipation.
Up first, this seriocomic duel of wills and biceps between pulp hero Doc Savage on your left, and second-string Marvel good guy Doc Samson on your right. It's a "pair o' Docs"! (I crack me up.)
Your artist du jour is the wily veteran Herb Trimpe, who was the regular artist on The Incredible Hulk for about a bazillion issues back in the day. If you saw a Hulk comic during the '70s, or even an image of the Hulk on some Marvel Comics merchandise from that same period, chances are good that you've seen Mr. Trimpe's work. In addition to his legendary run on Ol' Greenskin, "Humble Herb" rates a mention in comics history as the artist who drew the first appearance of another now-ubiquitous Marvel character: Wolverine. Trimpe didn't create the adamantium-clawed X-Man from the Great White North, but his art in a 1974 issue of Incredible Hulk marked the surly Canadian's public introduction.
Herb did, however, create Dr. Leonard "Doc" Samson, a gamma-ray blasted psychiatrist who spent many years attempting to head-shrink the Hulk. (Samson's exposure to radiation, unlike Bruce Banner's, didn't turn him into a monster — just a buff surfer dude with long green hair and a penchant for T-shirts with lightning bolts on the chest.) When I had the opportunity to commission this drawing from Mr. Trimpe, I knew exactly what I wanted to see.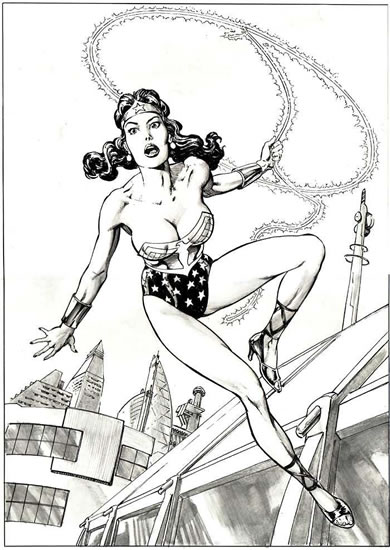 Speaking of Canada, this gorgeous addition to my Wonder Woman art gallery flew in this afternoon from Montreal, home of one of my favorite artists, the nonpareil Geof Isherwood. Geof had only drawn one other portrait of the Amazing Amazon before I commissioned this piece from him, but he took to the assignment with his customary aplomb.
I'd asked Geof to craft Diana in a costume similar to that she wore in her early 1950s appearances. He responded with this stylish creation that recalls the flavor of those great late-Golden/early-Silver Age science fiction comics from that same period. As always, Geof's graceful touch with expression and his fluid, lifelike grasp of anatomy shines in this drawing — a new winner for my "Temple of Diana."