I've seen the WonderCon and the damage done (to my wallet)
Since Fridays mean Comic Art here at SSTOL, it's only fitting that I spent my Friday afternoon at
WonderCon
, the largest comics and related media convention in the Bay Area.
We'd survived a stormy night and early morning, but the weather cleared up by mid-morning, just long enough for a dry 40-mile drive to San Francisco (The City, as we call it in this jurisdiction). I didn't get there quite by noon when the convention doors opened, but I was on site before 12:30.
I could tell it had been a long time since my last comics con experience (more than 20 years). A lot has changed in the intervening period — except for the ubiquitous comics dealers, this was a radically different experience from what I remembered. I can't recall artists doing commission work on site back in the day — just quickie head sketches mostly, and autographing comics. Of course, practically no one sold original art back then — now, even most of the artists have their published art pages stacked up for sale at their tables. (I was appalled to see than many of them just stack the pages naked, without a portfolio or even plastic sleeves, as people with grubby fingers flip through them. Egad.)
And I was startled to see that several female porn stars had tables and were signing autographs and getting photos taken — clothed, thankfully — with drooling fanboys. Not sure about the connection between these starlets and comics, but whatever. I was pressed by an overeager publicist into a grudging handshake with a certain "Adriana Sage." Lord only knows where that hand had been before I shook it.
For my art collection, I scored four terrific pieces. From a dealer, I picked up a Scarlet Witch pencil sketch by
Bob McLeod
, who drew my Black Panther commission. From the signature, I'm guessing Bob drew it at a convention back in '92. In the same transaction, I purchased a gorgeous Batgirl drawing by
Joyce Chin
, with a sweet preliminary version of another "good girl" sketch on the back. Twice the art, same low price — works for me.
I also collected these two new commissioned artworks, drawn on the spot by two outstanding talents. The
artist who calls himself

Buzz
(even his business cards read, "Just Buzz") drew, then inked, this awesome pinup of the Vixen, DC Comics' first black superheroine. Buzz's drawing (which is colossal, by the way — a huge 14" by 17", and Buzz apologized for not having any smaller art board, as though that were a problem!) also has a prelim sketch on the back, a different pose the artist considered before settling on the finished version. (I think he made the best choice.)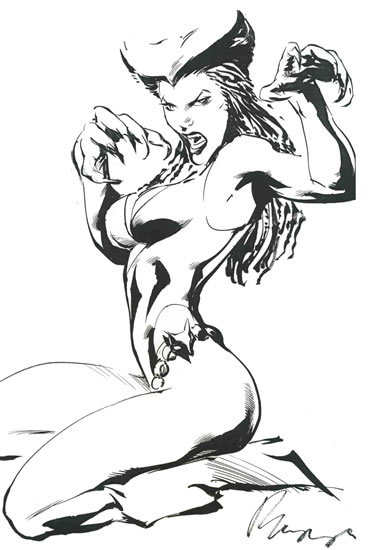 Ron Lim
(Marvel's Spider-Man and Captain America) drew this dynamic team-up of Cap and his one-time usurper, the U.S. Agent. The two-shot was Ron's idea — when I asked him to draw the Agent for me, he said, "How about if I put Cap in there too?" Both artworks are spectacular representations of their respective creators' styles.
I watched both Adam Hughes (the acclaimed
Wonder Woman
cover artist) and Matthew Clark (DC's
Adventures of Superman
) draw for a while — modern masters at work — and finally met in person Adam's girlfriend, with whom I've corresponded a few times via ComicArt-L. (So far, having a cordial acquaintance with Adam Hughes's girlfriend has not netted me any Adam Hughes art, a record that remained unbroken today. But you never know. Plus, she's a talented artist in her own right, and I'd love to have one of her drawings in my collection, too.)
Highlight of the day: Scribe, sage, and blogger supreme
Mark Evanier
conducted a marvelous interview by with veteran comics writer
Arnold Drake
(co-creator of
Doom Patrol
,
Deadman
, and
Stanley and His Monster
, and longtime scripter of the
Little Lulu
comic book), who basically just needed to be sat in front of a microphone and off he went. Great talker the grand old gentleman is, and with wonderful stories. One of the first topics Mr. Drake discussed was his acquaintance with
Matt Baker
, the first African-American artist and art director in mainstream comics, and the general subject of racism in the comics industry. Drake's talk alone was worth the twelve bucks admission and the drive home in a nasty monsoon.
So there's my day at WonderCon. Whew! Now I'm going to go crash.