"Unwrap the Holidays" on Saturday, November 29
So, there you sit, planning your post-Thanksgiving weekend assault on your friendly neighborhood megamall, and you're thinking...

Okay, I've got Black Friday covered. But what am I going to do with myself on Saturday?
Have I got an idea for
you
, bunkie!
If you live in the San Francisco Bay Area, anyway.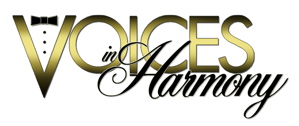 Voices in Harmony
, Northern California's premier men's
a cappella
chorus, is hosting its annual holiday music spectacular on Saturday, November 29, at
the historic California Theatre
in beautiful downtown San Jose. It's a 3 p.m. matinee concert, so you'll have plenty of time to hit the morning sales before the show and the nightlife afterward. Is that strategic, or what?
In addition to VIH, you'll enjoy the scintillating sounds of our sister chorus,
Pride of the Pacific
, and the crowd-pleasing male quartet
Late Show
. It's more entertainment than any one afternoon should offer, quite frankly, but we'll let you come because we like you. I can't think of a better way to begin the festive season — at least, not one that you could share with Grandma, Grandpa, and Cousin Fred and his new trophy wife.
You can order advance tickets via this link.
At $35 for excellent seats so close to the stage you can practically feel the body heat, and a mere $25 for almost-as-excellent seats a few rows further back, this fusillade of holiday cheer would be cheap at twice the price. (If you feel obligated to pay extra, I'm positive that our treasurer will not object.)
Tell
the ticket people
that your Uncle Swan sent you, and you'll probably get a warm handshake and a sincere smile of Yuletide gratitude.
Incidentally, this year's concert is entitled
"Unwrap the Holidays."
I wonder whose brilliant idea
that
was...?
Labels: Aimless Riffing, Christmas, Cool Stuff, My Home Town, Soundtrack of My Life, Thanksgiving