All our hopes are pinned upon you
Sad news this week for us Wonder Woman fanatics: Joss Whedon — creator of
Buffy the Vampire Slayer
,
Angel
, and
Firefly
—
announced that he is no longer attached to write and direct the proposed feature film
about our favorite Amazon.
Apparently the bone of contention between Whedon and Time-Warner (which owns DC Comics and its pantheon of superheroes, including the Superman and Batman franchises) was Warner's insistence that the film be a light-hearted period piece set in the World War II era — like the first two seasons of the
Wonder Woman
TV series from the '70s — whereas Joss envisioned a modernized, iconic representation.
In announcing his departure from the
Wonder Woman
movie project, Whedon confirmed what many of us had heard via the comics industry rumor mill: He had intended to cast Canadian actress
Cobie Smulders
(of
How I Met Your Mother
fame) in the title role.
(You'll just have to envision Ms. Smulders in a golden-eagle bustier and star-spangled briefs, unless you have mad Photoshop skills.)
Alas, what might have been. But we can dream, can't we?
Since we're all now thinking of Wonder Woman — which, given that it's Comic Art Friday, is a fine subject for consideration — let's eyeball a few images from our Temple of Diana.
In this powerful drawing by Brazilian pinup specialist Alex Miranda, the Amazing Amazon goes premedieval on the pillars of an ancient temple.
Here, Miranda provides a more contemplative take on our heroine. Nice detail work by the artist in this scenario.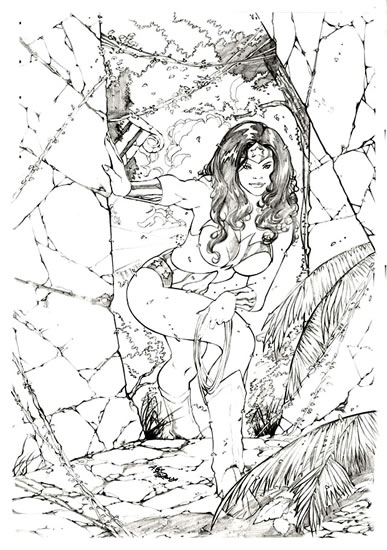 The next two images both flow from the pencil of artist Scott Jones, who works his magic under the
nom de plume
Shade. A couple of years back, I commissioned Scott to create a Wonder Woman image, using a couple of my favorite costume modifications — a skirt (Diana has never actually worn a skirted uniform in the comics; the skirt, however, recalls the bloomers that formed the lower half of her original outfit, back in the early 1940s) and shoes that lace up the calf (worn by Diana in the comics throughout the 1950s).
The drawing above was Scott's first attempt at this assignment. I thought the piece turned out just fine, but for whatever reason, Scott was dissatisfied with the results and offered to redraw it. His second attack produced the beauty you see below.
Now here's the exercise: Stare at each of today's images one by one. Then, quickly close your eyes and try to envision that same scene, only with Cobie Smulders in it.
I know it's a poor substitute, but it's the best I can offer.
And that, my fellow
Themyscirans
, is your Comic Art Friday.
Labels: Celebritiana, Cinemania, Comic Art Friday, Teleholics Anonymous