Oh, Brazil!
It's Comic Art Friday, and it's also a swamped-to-the-gills workday for yours truly. So what say we just dive right in?
Insular as we are, we often forget that some of the premier artistic talents in comics today hail from outside the friendly confines of these United States. There are tremendous communities of comic artists thriving in such far-off locales as Brazil and the Philippines, just to name two.
Speaking of Brazil... from that Amazonian land comes this gorgeous, classically styled pinup of Ms. Zinda Blake, better known to the world by the code name Lady Blackhawk. This striking image leaps from the pen of artist
Di Amorim
, best known on these shores for his work on the
Lady Death
series.
One of my favorite Brazilian artists — I just can't eyeball enough of this man's work — is
Al Rio
. Al has drawn numerous titles for comics publishers large and small here in the U.S., but he's probably most closely associated with the Image Comics series
Gen13
and
DV8
, DC Comics'
Extreme Justice
, and Chaos Comics'
Purgatori
. Al is such an amazing artist that even his preliminary sketches look fantastic — this Mary Marvel piece, for example.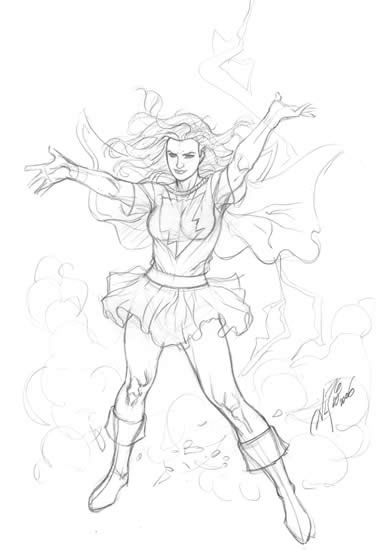 Both Amorim and Rio are represented in the States by delightful gentlemen who are themselves collectors and fans of comic art. Amorim's rep is Court Gebeau at
ComiCon Art
, while Rio's is Terry Maltos at
Al Rio Art
. Each of these fellows is as pleasant to deal with as can be, and I always enjoy transacting business with them.
Of course, the fact that I always end up with some spectacular art doesn't hurt the relationships, either.
And that's your Comic Art Friday. Now back to work... if not back to Brazil.
Labels: Comic Art Friday