All in color for a dime — make that 39 cents
Today on Comic Art Friday, we celebrate the
United States Postal Service
, which on this historic date is releasing a new set of 20 first-class stamps featuring the heroes and heroines of DC Comics.
Half the stamps display closeups of 10 of DC's best-known characters; the other half reproduce actual comic book covers starring these same 10 superheroes. The images have been thoughtfully chosen, and represent a nice mix of classic and modern art styles.
What better way to ensure that your mail arrives safely, than to assign a superhero to ride shotgun on the envelope?
This is also the weekend for
Comic-Con International
, the world's biggest comic book convention, held annually in San Diego. One of these Julys, I'd love to attend CCI, despite the fact that crowded places give me the willies. (And I don't mean Mays and McCovey.) Everyone who's anyone — and everyone who wants to be someone — in the comics industry comes to San Diego for this event, which frequently affords the opportunity to see and hear creators who don't appear in many other venues.
But since we're not milling with the masses at CCI, what say we enjoy a little comic art magic right here at home?
I don't collect much color art. As much as I enjoy the vibrant realism of color in a published comic book, I prefer to view original art in its pristine black-and-white state, whether in graphite or in ink. In fact, my entire collection contains only three color artworks...and guess what we're going to look at today?
When it comes to classically styled images of supermen and women, few artists can outdraw the talented James E. Lyle. In this stunning Wonder Woman pinup, James's gorgeous ink lines are complemented by a lush painted treatment, rendered by color artist Buzz Setzer. The finished piece recalls the great masters of vintage pinup art.
One of the qualities I find most appealing in James Lyle's work is the naturalism of his figures. The people James draws look like real human beings, albeit idealized and heroic. Here's an example of how James approaches the same subject — Wonder Woman again — from a different point of view, and with another stylistic twist.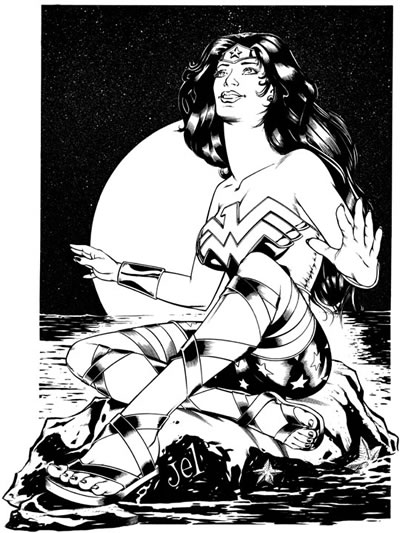 Now, check out another artist's colorful take on our Amazing Amazon. Here's a Comic Art Friday favorite by Dan Veesenmeyer.
As we did with Lyle, let's see how Veesenmeyer treats his subject in a simple pencil line drawing.
Wherever your activities take you this weekend, enjoy the boundless color and beauty of life. That's what we celebrate here every Comic Art Friday.
It's just that, most of the time, we celebrate in black and white.
Labels: Comic Art Friday